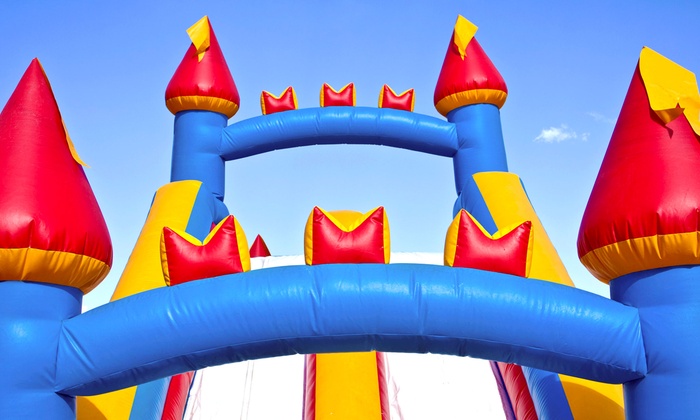 BounceLand is able to offer you a large variety of bounce houses and inflatable slides in which you can purchase so that you never have to rent the entertainment that you choose for your children ever again. Owning the bounces houses and inflatable slides will also provide you a great deal of money savings that each parent is looking for.
Large Size Selection
You'll love knowing that you can choose from a large size of inflatables for your backyard to entertain your children. The size of your backyard may determine the size of inflatables that you choose to purchase. You will want to make sure that you don't place your inflatables in areas that subject them to damage such as trees, bushes, shrubs, fences etc. The fact that they is such a large variety of sizes allows you to choose the perfect fit for where you plan to place the inflatables.
Bounce House Selections
You'll find many selections of bounce houses from which you can choose from. Offering selections that are good for boys, good for girls or good for both helps broaden your choices. You might choose a pink and purple castle that offers flower embellishments on it for your girls or a red and blue bounce house that has sports balls such as baseballs, soccer balls, footballs and basketballs to adorn the top of it for your boys. You'll also find many selections that are neutral such as a green and yellow bounce house that has colorful hot air balloons at the top of each corner post. Perhaps a bounce house that resembles a train is what you think your child would enjoy the most, you can choose a train or a dragon or even a bounce house that has palm trees on it.
Inflatable Slide Selections
In order to add more fun to your backyard for your children, consider an inflatable slide to go with the bounce house that you select. You'll find that the inflatable slides also come in a large variety to help you choose the perfect size for your children as well as for your yard space. You can select from single slides, double slides and even slides that are netted for safety to create a ton of fun for your child right there in your own back yard.
Inflatable Water Slides
To create wet and wild fun you might opt to purchase a slide that is an inflatable water slide. There are so many fun water slides to help make summer so much more enjoyable right there at home. These slides are available in a huge variety of colors and can also be bought with double slides on them for twice the fun. Many of the inflatable water slides offer a pool at the end of the slide to make reaching the bottom of the slide an added bonus. You'll have a hard time getting your children to come in to the house at the end of the day when you choose to purchase a water slide that is inflatable for them.
Obstacles and Interactive Inflatables
To keep the fun going, we also offer may inflatable obstacle and interactive inflatables for the yard. The obstacles can provide a fun challenge to children while playing, you'll even find inflatable Start and Finish Poles for creating a lot of fun. Inflatables can also provide great advertising for your business as well, they are great attention grabbers for the public.
Quality Made in the USA
Each of our inflatables are quality made right here in the USA. They are made of only the finest materials in order to offer the best durability. We know that children can be hard on toys so we make sure that each one is quality tested before it ever leaves our warehouse. We have so much confidence in our work that our inflatables come with a three year warranty in order to meet our customers satisfaction. The finest vinyl as well as the toughest threads are used to be able to hold up to rambunctious children as well as the elements that the inflatables must endure.
Inflatables with the Works
Every inflatable bounce house, slide or water slide that we produce comes with everything that you need to make it functionable. You'll find that the blower is a part of the package as well as the spikes, straps, tarps and so much more. Assembly as well as disassembling them is easy and fast. We also include a patch kit just in case the inflatable is accidentally poked or punctured.
Start Your Own Business
If you are looking for a great way to start your own business, you can choose to purchase some of the most popular inflatable bounce houses, slides and water slides that we offer and rent them out in your city or town as a full time business or as a side business. Our inflatables are so popular and are sure to create all of the backyard fun that everyone is seeking for their children. The inflatables are not only fun but they are also safe.
Occasions for Inflatables
Many occasions will be made more fun and special when inflatables are included. They are the perfect way to make a child's birthday party more fun and entertaining. Inflatables can also be used for church and school functions as well in order to entertain children. These inflatables are the perfect edition to any fund raiser where children are going to be involved. A company picnic should always include fun things for the kids to do and the bounce houses and inflatable slides and obstacles will make that event a real winner.
Cater to the Kids
When you choose your inflatables from BouncerLand you will find that it is so easy to cater to the kids and provide the fun and entertainment that they deserve. Kids can be hard to entertain and appease but with our great inflatables you'll never have to wonder if the kids are having a good time.